Gambier Island Adventuring
Submitted by Mr. Ketcheson
The trip to Gambier Island / Cha7elkwnetch was like two worlds colliding for me. I've spent, on and off, the last 7 summers living on Halkett bay at Camp Fircom – just a short 30 minute walk from our campsite. Exploring the forests and beaches there with campers was, in fact, how I realized I wanted to be a teacher! Going back with CMA students and seeing all the energy and curiosity they have was truly a pleasure and a privilege.
Gambier Island / Cha7elkwnetch is such an excellent place for learning experiences. While it's nearby, it's removed enough to feel disconnected from civilization and give a sense of self-sufficiency. Without any bears on the island, it's a relatively safe spot to camp and build up some outdoorsy confidence. The hike up to Mount Artaban is short enough not to take up an entire day, but challenging enough to feel a sense of accomplishment for having finished. The camp is near an old village site and has a large intertidal zone perfect for mucking about and finding all sorts of creatures and critters. I have no doubt that each and every student took some unique learning away from this trip.
Some of the experiences and learnings I had the chance to be a part of included many excited students running up to me to tell me about birds they had seen, learning about crabs and starfish and all kinds of other creatures in the intertidal, as well as the names and stories connected with many of the plants and trees in the forest. While many LEAD trips focus on preparing students socially and physically for expeditions, it was rewarding to slow down and see a different way to be in nature – not just as a teacher sharing my knowledge, but to see the ways students brought their own experiences and understanding forward as well. As an erstwhile marine biologist, it was great to see the excitement and playfulness students brought to exploring the beach. Not to play favourites, but the best find of the trip was a small octopus beak.
This trip was also a rare opportunity for students of all grades to come together and get to know each other a bit more. About 100 students in one camp site is quite a few, but the space is very accommodating to large numbers. It was interesting to watch as a teacher to see how different grades helped each other and the spontaneous play and games that took place. The grade 9 students had shared some important camping skills with the grade 7s previously, and the results of their efforts were clear!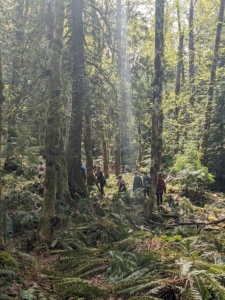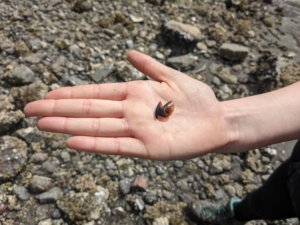 https://coastmountainacademy.ca/wp-content/uploads/2022/05/DSC_8256-copy_ENC-scaled.jpg
1700
2560
Ms. Keeling
https://coastmountainacademy.ca/wp-content/uploads/2020/04/CMA_logo_2.png
Ms. Keeling
2022-05-05 18:51:20
2022-05-05 18:54:48
Gambier Island Adventuring