Faculty
Travis Busschaert
Contact Travis at travis.busschaert@coastmountainacademy.ca
Mr. Busschaert is not only an accomplished teacher, but a talented woodworker. Mr. B (as he is fondly referred to around campus) has a BSc. in Biology from Wilfred Laurier University, a BEd from the University of Western University, as well as a certificate in Fine Woodworking from Selkirk College in Nelson.
Travis is fascinated by the current and historical connections between scientific advancement and the resulting effects on cultures and society at large. Technological advance occurs at ever-greater rates and demands a generation of scientifically literate youth. Travis uses enthusiasm and awe to engage and inspire his students to recognize the wonders of science and the natural world. He also challenges them to consider the potential impacts or consequences that science and technology can have on the environment both locally and globally. He strives to evoke a sense of stewardship in his students as they begin to grasp many of the potential positive impacts they and their peers can be a part of.
A self-described lifelong learner, Travis is a firm believer in interest driven learning and continues to pursue new avenues of learning that he continues to share with CMA students and staff.
Evan Sharp
Contact Evan at evan.sharp@coastmountainacademy.ca
Mr. Sharp is a professional educator who moved to Squamish in 2013 to follow a passion for innovative education and adventure sports. Mr. Sharp's driving belief is that cross-curricular experiential learning yields the most enduring understandings in students.
Mr. Sharp holds a BA and MA in Classics from the University of Waterloo and Wilfrid Laurier University respectively, a BEd from the University of Toronto (History & Philosophy), and has been leading and educating young people in and out of the classroom for over 10 years. Since 2015 he has been a Level 2 Google Certified Educator, and is a founding leader of the BC Google Educator Group; a professional development network for Google Educators. Evan is fluent in the French language, a student of several others, and delights in cross-language puns.
When left to his own devices, Mr. Sharp is a web developer, a National Ringette League official, a formerly sponsored 24 hour solo mountain bike racer, and a timid but fanatical ice climber.
Mary Mackenzie
Contact Mary at mary.mackenzie@coastmountainacademy.ca
Ms. Mackenzie is excited to be back in B.C. after teaching abroad in Colombia. As a native Vancouver Islander she has always called the West Coast home and looks forward to sharing her connection to and helping her students learn from this beautiful place we live in.
Having obtained her B.A. in Anthropology at the University of Victoria, her academic passion lays in humanities, a subject she loves as our understanding of the past is constantly evolving. It was while pursuing her undergraduate degree that Ms. Mackenzie realized she wanted to be a teacher and the year following her graduation moved across the Straight of Georgia to obtain her Bachelor of Education at UBC in the International Baccalaureate Primary Years Program Cohort, where she graduated from with the Dean's Award for Practicum Excellence.
When she's not teaching she can be found hiking, snowboarding, cooking, practicing Spanish or planning her next adventure. She is also a voracious reader forever searching for the next good book. Ms. Mackenzie believes in a holistic, student-centered approach to learning and is currently the grade 7 teacher at Coast Mountain Academy.
Crista Wiles
Contact Crista at crista.wiles@coastmountainacademy.ca
As a self proclaimed lifelong learner, Crista has been sharing her passions with teenagers as a Literature/Science teacher and whitewater kayak coach. Since completing her Undergraduate Degree at St. Francis Xavier University and Bachelors of Education Degree at Nipissing University, she has been finding meaningful ways to explore and develop global stewardship through informed leadership.
Crista is back in the Sea to Sky after working with World Class Academy for three years, a traveling high school for student-athletes earning their education while exploring the unique rivers and cultures of the world. She has experience designing and implementing creative courses based on the needs of a variety of populations as she began her career working with youth at risk at the Boundless School in Ontario. Combining adventure therapy with literature and life skills is her happy place and she is always looking for new ways to expose people to different perspectives.
When she's not on the river, in the mountains, or on bike trails, Crista can be found at the local library lost in a good book or on her yoga mat in the sunshine.
Neena Bauck
Contact Neena at neena.bauck@coastmountainacademy.ca
Ms. Bauck has spent the better part of the last decade teaching at Brockton School in Lynn Valley. During her time at Brockton, Ms. Bauck has taught Mathematics from Gr 7-11, Chemistry 11-12 and Science 9-10. She has been active in many other areas of the school outside of the classroom as well. Prior to teaching at Brockton, Ms. Bauck was a teacher in the Langley School District teaching Mathematics, Science and Chemistry at a variety of secondary schools in the district. Prior to teaching, Ms. Bauck was an Analytical Chemistry Technician which provides her with some excellent real life experience to draw upon as she teaches our students.
In addition to what Ms. Bauck will bring to the classroom, she will also provide a great deal of leadership for our returning faculty. She has a strong background in the new BC curriculum as well as assessment practices. She will also be able to help CMA in the continued implementation and awareness of the core competencies.
Outside of school, Ms. Bauck loves the outdoors. She is an avid climber, mountain biker, backcountry skier and hiker.

Court Ashbaugh
Contact Court at court.ashbaugh@coastmountainacademy.ca
Court has spent much of the last dozen years teaching math, chemistry, and physics at the post-secondary level and feels lucky to transition from Quest University Canada to Coast Mountain Academy as both institutions have their sights set on educational experimentation and innovation.  So much of one's learning disposition is set-up early in life and if there is one feature he has seen serves learners of all ages beyond any other, it is direct experience in managing their own intellectual development.  We can choose to manage our finances, our diet, and our time to the betterment of ourselves.  Learning is equally well served by such a deliberate approach.
When it comes to riding a bicycle, the outcome is clear from the outset and the feedback instant, and simple (albeit maybe painful!) to interpret.  Intellectual development requires a bit more structure and its rewards are more subtle.  Court's goal as an educator is to help students develop strategies for their own learning that generalize across disciplines, stages of life, and learning environments by making them directly aware of and reflective upon how their mind is changed by experience.
Court spends a significant part of his life learning too and lately, he has been interested in mechanical prototyping and manufacturing, YouTube video production, Python, and the everlasting pursuit of improving as a musician – these days focused on the mandolin.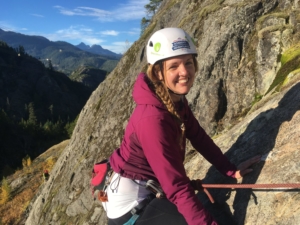 Rachel Chambers
Contact Rachel at rachel.chambers@coastmountainacademy.ca
Ms. Chambers is originally from the UK but now calls BC home. She has a BA in Geography from Oxford University and Post Graduate Certificate in Education from Exeter University. Before leaving for Canada she worked at Cornwall's top high school for four years as a Teacher of Geography and Head of Lower School. During this time, she led the school's mountaineering club and qualified as a Duke of Edinburgh Award Assessor.
Ms. Chambers has worked for several years in the outdoor industry and has taught many sports including surfing, hiking, climbing and recently became a qualified snowboard instructor. She believes that education should be very much centered around interactions with the immediate world and that experiences offer the perfect in-depth learning opportunities.
From an early age, she felt the call of the outdoors and this influences many of her adventures. She has traveled to over thirty countries and particular highlights include backcountry expeditions in the Northern Territories, hiking in the Himalayas and taking her students to Iceland.
Being on her splitboard in the backcountry is her second home. While she eagerly awaits the return of Winter each year she can be found in the Whistler Bike Park.

Marni Harris
Contact Marni at marni.harris@coastmountainacademy.ca

Marni strives to live widely, boldly, deeply, with joy and curiosity. She has lived in many corners of the globe and now happily calls Squamish home. Marni is an outdoor and sports enthusiast, artist and entrepreneur. She has taught ESL for over 10 years and designed and taught courses at Auckland University of Technology.
She has owned her own training business, worked as a rowing coach, spinning instructor and yoga teacher in schools and a variety of fitness venues in Canada and internationally.  Marni has had the privilege of volunteering in a paediatric palliative care centre, and on wards at children's hospitals in Ottawa, Vancouver and Auckland.
Marni hold degrees from Ottawa and Carleton University. She studied art at the Ottawa School of Art, Vancouver Sculpture Studio and metal sculpture at the Emily Carr School of Art and Design.
When not in the studio or workshop, sculpting, printmaking, welding or making furniture, Marni can be found at play on the trails biking, hiking, backcountry skiing with family or friends, on her SUP or playing guitar. These rhythms of motion, connections to various communities, and playtime in nature inform her art practice.
Staff
Tracy Keeling – Director of Admissions & Communications
Contact Tracy at tracy.keeling@coastmountainacademy.ca
Tracy loves to share her passion for innovative education and CMA. If you live in the Sea to Sky corridor you have likely met her at any number of community events 'talking up' CMA, our philosophy and amazing team. Tracy comes to CMA with over 10 years of administrative and communications experience at Simon Fraser University, and most recently Quest University Canada. She is passionate about challenging the status quo, education, and loves working with young people. In her free time, Tracy is often found with her daughters swimming, hiking, or sharing a plate of fries.
Melahnie Moodie – School Counsellor
Contact Melahnie at melahnie.moodie@coastmountainacademy.ca
Melahnie Moodie has a passion for learning and being fully engaged in life. She enjoys being active, healthy and in nature. She has over five years experience teaching at an International Baccalaureate school in Vancouver, Spanish, science and global studies. She has also worked as a field producer, translator and educational director for a global documentary series featured on National Geographic. She has designed and written a global education curriculum based on this series that is distributed internationally.
In terms of her education, Melahnie has four degrees including and Bachelor of Science with a focus in sustainability, a Bachelor of Education with a focus on creativity in the classroom, a Master of Education with a focus on curriculum design, leadership and student engagement and a Master of Arts in counselling psychology with a focus on mindfulness. Melahnie also is deeply committed to personal growth, having over 20 years of practicing yoga and mindfulness.
Being local to Squamish she is delighted to be a part of the team at CMA. Melahnie values each interaction she is fortunate to have working with youth as a counsellor and believes in each individual's capacity for awareness, growth, and fulfillment.
Bri Oliver – Director of Administration
Contact Bri at bri.oliver@coastmountainacademy.ca
As the Director of Administration Bri looks forward to supporting the staff, students, and parents at CMA. She is passionate about the approach CMA takes towards educating young minds.
A long career with McDonalds has provided Bri with a solid foundation in customer service, communications and organization. Bri was an industry leader when it came to creating and maintaining systems for the company and loves to plan, organize, and execute these systems. Later in life Bri looked to satisfy her creative side, and opened a photography studio in both BC and MB. She was quick to adapt to the never ending changes in the cut throat industry, and kept her business thriving for over a decade. Her biggest challenge in life has been raising her 4 boys along side her Husband, preparing them for a successful life. In the warmer months you can find Bri coaching baseball, camping off grid on their island property, playing games, reading, and soaking up the sun on the beach. Once Winter hits she enjoys watching movies, quilting, digital design and watching her boys play soccer and football.
Tanya Bastian – Director of Finance
Contact Tanya at tanya.bastian@coastmountainacademy.ca
Tanya was born in Vancouver but was raised in Smithers, BC on a 160-acre farm. She spent her teenage years riding, training, and showing horses before starting on her educational path to becoming a Chartered Accountant. Tanya has spent the majority of her career as an auditor at KPMG working with municipalities, school districts, not-for-profits, and private clients.
Tanya traded in the four legs of a horse for the two wheels of a mountain bike and has declared that biking is now her current passion. She recently moved to Squamish from Victoria to take advantage of our biking trails and other outdoor pursuits. Her recent dog adoption from Thailand keeps her busy as she is learning to be the best dog mom she can be.